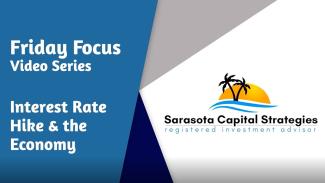 Friday Focus: Fed Rate Hike & the Economy
The Federal Reserve raised its benchmark interest rates by .75% this week, the latest in a series of rate hikes intended to cool inflation and slow down the economy. But with inflation still high and credit becoming more expensive, some economists fear the rate hikes could push the economy into a recession. For all Americans, higher interest rates carry weighty financial implications.
Watch the latest video from our Friday Focus video series on what the Fed's latest interest rate hike means for your money.
If you would like to discuss more about what this latest rate hike from Federal Reserve could do the economy or have any questions about a looming economic recession, give us a call at (941) 918-2255 or visit etfpros.com.